When dealing with property emergencies within strata schemes, there is a standard procedure to follow.
If you discover a leak in or around your apartment, it's important to contact the secretary or strata title management immediately to inform them of the problem.
They can assess whether the issue is the responsibility of the apartment owner or the body corporate as a whole.
If the repairs are relatively minor, it's possible for them to be dealt with straight away. If the damage is more substantial requiring extensive work, a general meeting may be necessary for the owners' corporation to determine a course of action.
If no response is received, or the action taken is inadequate, the owner can put forward a motion to the next owners' corporation meeting requesting the necessary repairs.
In the event of a long delay or dispute about possible action, the owner may lodge an application for mediation with NSW Government Fair Trading to try to get the problem resolved.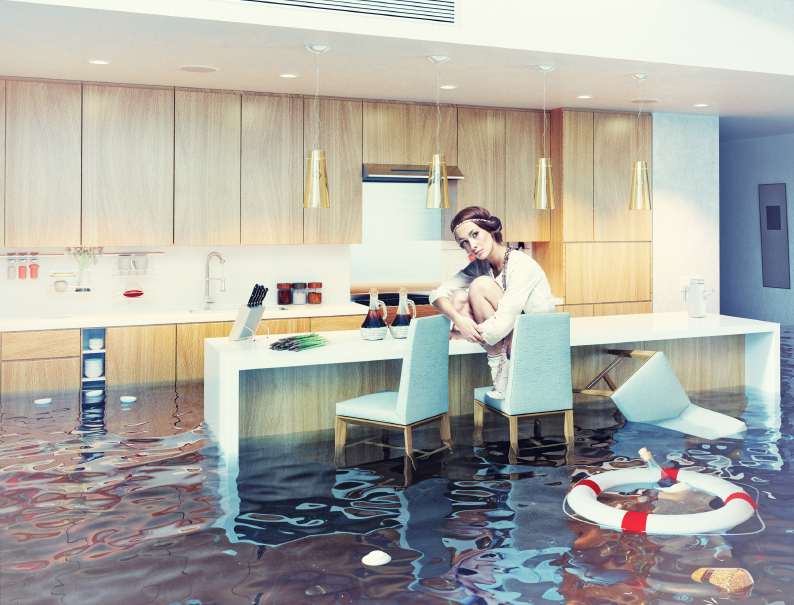 Who is responsible for what in a strata scheme?
When determining who is responsible for an apartment leak, it's important to know what belongs to the individual lot owner.
The lot owner is generally regarded as owning the 'airspace' of the unit or apartment, and everything that lies within it. This includes all internal walls, floor coverings, fixtures and fittings.
Structural areas including floor, ceiling and roof, however, are usually regarded as communal property belonging to the owners' corporation or body corporate as a collective.
Repairs and maintenance of common areas are deemed the financial responsibility of the owners' corporation, while the lot owner is expected to pay for damage to individual property.
Any leaks occurring from and within external or communal areas should be covered by the owners' corporation as a whole.
If these cause damage to individual apartments or lot owners' property, repairs should be covered by the owners' corporation insurance.
What to do if you are a tenant
If a tenant is renting a strata apartment, any leaks within the unit airspace are the responsibility of the owner.
The owner or property manager should be first point of contact for problems. If unavailable, the tenant should contact the secretary or managing agent of the strata scheme for further advice.
Want to upgrade your Strata Management? Get in touch today
Insurance relating to strata schemes
There are three basic forms of insurance covering strata schemes, and it's important to know the difference between the three.
This means that every owner can be adequately covered by the right form of insurance to suit their needs.
Strata insurance. All communal areas fall under the management of the owners' corporation and are covered by compulsory strata insurance. In the event of problems, a claim can be made on the insurance to repair equipment or make good damage to communal areas or individual units.
Contents insurance. All owners and tenants in a strata complex need to take out their own contents insurance, as the scheme's strata insurance does not cover problems arising within the individual lot owner's airspace.
Structural insurance. Owners need to take out structural as well as contents insurance, ensuring they are covered if problems arise with the structural areas of their lot – water damage to internal walls, for instance.
Landlord insurance. If the unit is an investment property, owners need to ensure they are covered for loss, damage or non-payment of rent by their tenants. This will cover leaks caused by tenant accident or negligence.
Professional strata management services are essential to ensure prompt and efficient handling of emergency repairs within the strata complex.