Ever left Christmas shopping until the last minute – what happens? As consumers edge closer to Christmas Eve their purchase options become extremely limited and the chance of securing a bargain is equally as limited. As a consumer you have got no time to decide, you have to take what's left regardless of whether it's what you want. A phenomenon similar to this is quickly developing within the energy industry. If smart businesses don't act fast, they will be caught in the last minute stampede and forced to forfeit the "best" contract for any available contract.
Energy Action prides itself on being Australia's leading independent energy management company. We have arguably the best cross-referenced data base of commercial retail energy prices from the majority of electricity retailers across Australia. This data is updated daily as we auction numerous energy contracts every day. From this resource we can see a unique and critical scenario unfolding that will impact retail electricity contracts. Across Australia, virtually no contracts for electricity supply exist into the 2016 calendar year. This will place an unprecedented amount of pressure on the energy industry the closer we edge to the deadline. Internally, we have coined this trend as the 'contract renewal cliff' and it is represented in the image below.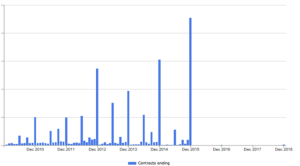 We believe there are two main reasons for this 'cliff':
Political Uncertainty on Carbon
What happens to the price of your petrol when there is political tension in the Middle East? It rises. We are seeing something similar happen to the Australian energy market due to the upcoming Federal election in September. What we have are two political parties with two differing views on the pricing of carbon. Will the current scheme be in place or not? If not, what will a scheme look like and when will it be in place? The result of this uncertainty is that typical energy contract periods are shortening. Rather than businesses taking typical three year contracts, they are 'shortening' their contracts to avoid going beyond July or December 2015. The outcome is a huge renewal cliff building which combined with uncertainty will cause an increase in pricing of energy retail prices. Do you wait like everyone else or can you do something about it to avoid the rush and increased prices?
Lack of Liquidity
For energy retailers to offer energy prices beyond 2015 there has to be liquidity in the market – meaning customers willing to take a contract or retailers having a contract to offer. Customers are understandably wary of taking a carbon inclusive price – cautious of running the risk of the carbon scheme being "abolished" and a retailer refusing to strip the carbon price out of the energy rates.
For these combined reasons there has been very little activity for 2016. At this stage, we believe approximately 80,000 commercial customers will need their contracts renewed in a very short time frame.
Seamless Transition, Exceptional Service – Switch Your Strata Manager!
What is Energy Action doing?
Energy Action has been working with energy retailers to create liquidity for carbon exclusive energy rates contracts for 2016. Under a carbon exclusive contract, customers have clarity that no matter what happens to carbon, there will be a line item of the bill that clearly shows any carbon rates or changes. This means should the price of carbon fall or be abolished, a carbon line item on your bill will clearly show this. Waiting for political clarity does not change the current situation, and only continues to increase pressure on pricing and worsens the dilemma with more contracts being added to the 'renewal cliff'. What's the result? Just like customers during pre Christmas sales, you are a price taker. Retailers will not have enough time to present you with their sharpest price, simple as that.
What do we suggest?
Energy Action suggests planning when you go to market well ahead of your actual contract end date. It takes time and attention to tailor an offer for each contract and to assess and 'sharpen the pencil'. With 80,000 contracts to renew in a short period, it is impossible for retailers to spend the necessary time reviewing every contract. Energy Action suggests that you deal with an experienced energy procurement company who can obtain the best possible carbon exclusive deal for you in 2016 and beyond.
Finally, we urge you to remember the moral of this story is to plan ahead to avoid getting caught out. Contracting out to 2016 doesn't have to be daunting, contact Energy Action to see what our team of energy experts can do for you.