How to Get a Section 184 Certificate (Previously 'Section 109 Certificate')
23 July 2017
If you're thinking of buying into a strata complex, there are a few things you need to know first.
One of them is how to get a Section 184 Certificate – that mysterious document giving vital information about the health of the building's owners corporation. Let's take a look at what a strata complex is, what a Section 184 Certificate shows you and how to obtain a Section 184 Certificate before you purchase in a Strata.
What is a strata scheme?
A strata scheme or complex is a building or collection of buildings that has been divided up into lots. These can be individual units, apartments, townhouses or houses. So the purchaser can own an individual unit but shares ownership of the common property – both inside and out – with all the other owners in the block.
When you occupy the unit, you will pay an additional levy to cover the cost of insuring, maintaining and managing these communal areas.
As an owner you become part of an owners corporation. Most owners corporations choose to employ a strata manager to take care of the complicated legal, financial and administrative requirements of the strata scheme, rather than manage it themselves.
What is a Section 184 Certificate? (It used to be called a Section 109 Certificate)
A Section 184 Certificate is a document issued under Section 184 of the NSW Strata Schemes Management Act 1996, obtainable from the owners corporation or their strata manager.
It shows a wealth of information about the structure of the strata scheme and, most importantly, the state of its financial health. The certificate must show the scheme's insurance cover, executive committee members, strata managing agent or caretaker, current and outstanding levy contributions, special levies and any specific by-laws drafted and implemented by the owners corporation within the last two years.
The Section 184 Certificate is generally requested by prospective purchasers, to make sure they're buying into a reputable and fully functioning strata scheme. It can, however, be requested at any time.
How is a 184 Certificate obtained?
A 184 Certificate is available upon application to the owners corporation treasurer or strata manager, and the request is generally made by the owner of the unit or apartment. If it comes from anyone else, the owner or mortgagee's written permission is required before the certificate can be issued. A reputable vendor is normally happy to comply with this request, and accepts it as a matter of course. If the vendor raises obstacles to a certificate being obtained, it's a good indication that there might be an issue – often outstanding levy contributions or payment backlogs. If an outstanding levy is not shown on the certificate, the purchaser may not be held responsible for that amount.
Rather than dealing directly with the owners corporation, many purchasers find it easier to go through the strata manager or body corporate management.
What is the cost of a 184 Certificate?
Statutory costs apply to the issue of all Section 184 Certificates.
Jamesons Strata Management charge a fee of $119.90 with an additional $58.30 for a further certificate covering a garage, parking space or storeroom that services the lot being purchased.
An urgent certificate can be obtained by Jamesons for $179.85 with an added $87.45 for an additional lot such as garage, parking space or storeroom.
It really is worth the trouble of ordering a Section 184 Certificate before you buy into a strata scheme. This tiny document can head off a world of pain in the future, helping you assess the real value of your prospective purchase.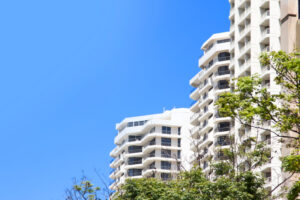 * Article last updated July 2017.